SCANDAL
YELLOW
Review by Arthur Doctolero
With six studio albums and a successful world tour under their belt, there is no doubt that SCANDAL is one of the most beloved pop-rock bands in Japan today. Despite the band's success and longevity, their die-hard fans are giving them a little bit of tough love through social media such as changing their image from poppy to edgy. As a result, SCANDAL has finally taken full creative control by recording and releasing their seventh studio album YELLOW.
YELLOW contains 13 songs written entirely by the band members. It includes the girl-power anthem "Sisters" which was released as a single in September 2015, the power ballad "Chisana Honoo" (theme from the Hello World documentary film), and, for fan service, the English version of Your Song (originally from Hello World). The melodies in this album follow the tried-and-tested pop-rock formula that blends well with SCANDAL's style, and lead guitarist MAMI's guitar riffs have noticeably improved by incorporating occasional blues elements. The quality of the sound has improved a lot compared to previous albums, especially on high volume.
The surprise treat of the album is the track called "Heaven Na Kibun", a song inspired by the band's recent tour in Turkey. "Heaven Na Kibun" brings a grittier side of SCANDAL which we haven't heard before. Its arrangement and lo-fi recorded vocals are highly reminiscent of the grunge-rock albums from the mid-1990s such as The Holy Bible by Manic Street Preachers. Lead vocalist HARUNA exudes a lot of sex appeal through her relatively new vocal technique. For sure, "Heaven Na Kibun" will definitely be a certified fan favorite. Other notable tracks leaning towards the hard rock spectrum are "Suki-Suki" and "Happy Birthday". Another brave move by SCANDAL is including their very first reggae-rock track entitled "Love". SCANDAL deserves a pat on the back for pulling off the song really well. Fans of UB40 and Bob Marley who are able to speak Japanese will surely appreciate the song.
YELLOW explores a broader musical perspective and exceeded my expectations after their last two albums STANDARD and HELLO WORLD both in terms of recording of songwriting. Overall, YELLOW is the most diverse, most ambitious, and perhaps the most important album SCANDAL released so far.
Available in Europe at JPU Records: http://www.jpurecords.com/artists/scandal/
and at CDJapan: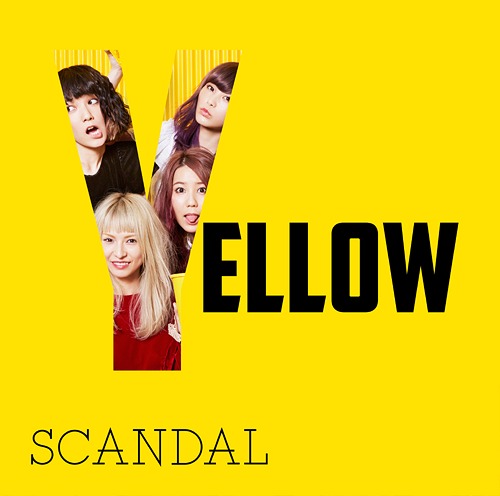 SCANDAL