Yuki Kajiura
Interview by David Cirone and Nhu Nguyen
July 20, 2018
With a musical career spanning games, films, musicals, and an extensive list of anime titles including Sword Art Online, Fate/Zero, and .hack//SIGN, composer, lyricist, and performer Yuki Kajiura has provided soundtracks to hit after hit, not to mention producing for acts like Kalafina and her own solo project, Fiction Junction.
One day before performing at Anisong World Matsuri's "Japan Super Live" at L.A.'s Microsoft Theater, we talked with her about the lure of anime, her music's relationship to the art form, and working with directors and other musicians.
In modern day film, the musical score is highly respected, and it's an essential part of dramatic storytelling. Do you think scores for anime are seen the same way?
Yuki Kajiura: I think the importance of anime music really depends on the director. Some directors say, "Oh I want this part to be really enhanced by the music." But some directors feel that "as long as it fits, it's okay" — there's no soul or value put into the score or music for the show. The interesting thing is that, recently, anisong has developed commercial value, so it's a different situation now. When it comes to the difference between anime music and modern, live-action film, sometimes anisong has a commercial value that live action scores don't have. I think music and anime have the power to bring out emotions and feelings unconsciously when they're presented together to the audience, so it's important that I communicate with the director a lot beforehand. I read the script and make sure I understand the director's intention — the elements he wants to put in and what kind of emotions or feelings will be created as a result. I really prefer to work with directors this way, and we're able to create something powerful when we collaborate.
Normally composers are seen as people who work alone to bring their visions to life, but you seem to enjoy working with collaborators. What do you like most about working with other musicians?
Kajiura: I normally work by myself as a composer. I've only collaborated once with another composer. But I work with a lot of musicians because they give me inspiration. Working with these creative people gives me lots of new ideas.
You have such a large body of work connected to anime. What attracts you to this art form again and again?
Kajiura: Anime is a world full of unexpected and surreal things. The stories aren't just, "I go to work, I get coffee, and I go home." It's always about something you would never expect to happen — that's anime. I can write heightened, intense music and it's so much fun to put it into this surprising world. I think epic-scale music can only fit into Hollywood blockbusters and anime. [laughs]
What anime music had an impact on you when you were young?
Kajiura: I didn't really watch anime, dramas, or film when I was a kid –- we didn't have a TV at home. But when I was around my family, I listened to a lot of music. My father was heavily inclined to listen to classical music or opera. My brother really liked The Beatles and any music on the British charts — Abba or Queen — always something very melodious. So naturally I tended to follow the music I heard a lot.
You brought some special musicians with you to L.A. this time. How did you choose this combination of artists to join you for Anisong World Matsuri?
Kajiura: I try to bring artists that normally work with me as recording session musicians. I don't necessarily hire certain musicians just for live concerts. I've made music with the same artists over and over in the last 10 years, and this time around I brought the same 10 musicians who are going to be with me on stage. I work with many artists, and these are the top artists that I really enjoy creating music with.
Is there any difference in how you plan your performance for an overseas audience compared to a Japanese concert?
Kajiura: There isn't any difference — I think music has no boundary. But I do enjoy the reaction from audiences outside Japan. For example, when I play a song here, there's a much bigger reaction, an unrestrained response, versus a Japanese audience who sits there and listens quietly, behaving in a proper manner.
Your creative process seems so detailed, and you take a lot of time to craft these unique compositions — how do you finally know when the work is finished?
Kajiura: When the anime is on the air! When I'm creating the music, the anime isn't complete, there are no pictures yet, so I have to imagine how it's going to match with the voice-over, the actors — it depends a lot on imagination. So when it's on the air I feel like, "Yatta!" I'm so proud when everything is in one piece and it matches with the voices, sound, pictures, emotions, and I get to see what kind of feelings it's created.
You're an inspiration for many young female musicians, not just in Japan but around the world. What advice would you give a young girl who watches anime and says, "I want to make music like Yuki Kajiura"?
Kajiura: The advice I'd give to aspiring composers is to listen to a lot of different kinds of music. And don't just listen to music, but put 100% of yourself into it. Don't just casually listen while you're doing the laundry or the dishes or watching TV — those actions distract you from fully concentrating on the music. Focusing completely on the music and trying to fully study it is very important. It's strange suggestion, but you should mute the picture of the anime you're watching. Shut down the sound of the anime and just imagine the music. Of course, traditional musical study is also important, but just focusing on music and listening to a lot of music is truly irreplaceable.
Yuki Kajiura Website: http://www.fictionjunction.com
Yuki Kajiura Twitter: https://twitter.com/Fion0806
Anisong World Matsuri Facebook: https://www.facebook.com/AnisongWorldMatsuri
Anisong World Matsuri Twitter: https://twitter.com/AnisongWorld
Buy at CDJapan!
Yuki Kajiura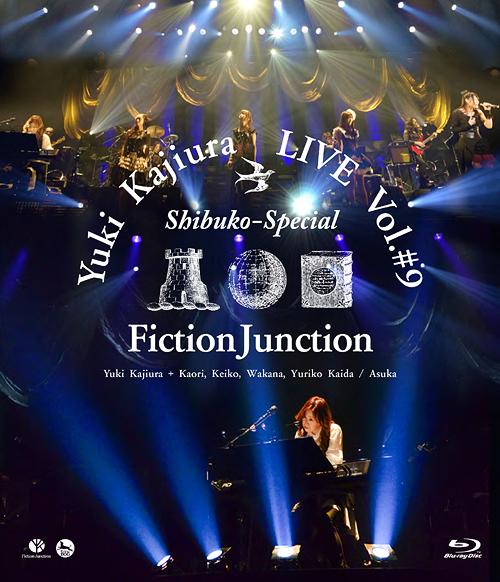 Yuki Kajiura / FictionJunction