Shoko Nakagawa
Interview by David Cirone
January 26, 2019
There are so many stories about you eating your cats, going back more than 10 years. There are some people here in the U.S. who might not even know you're a singer. Are you still biting cats as much as you used to?
Shoko Nakagawa: My father, my mother, my grandfather, they all loved cats, and that "biting" them was just part of how they expressed their love. I just thought it was natural! It was a big surprise to me that my photos were shared all over Japan and even overseas. Maybe a lot of people think I'm a strange person who eats cats, but if that's a way to get people's attention and help spread anisong, then that's great. I still love cats more than ever.
How has being a truly dedicated "cat person" changed your life?
Nakagawa: I've always felt like cats were family to me. When I was a kid, my parents were working and I was staying home alone, but thanks to my cats, I never felt lonely. Sometimes they feel like my brothers and sisters, sometimes they feel like my mom and dad. Not too long ago, I was doing a concert and I fell and broke a bone, and when that happened, my cat was there for me all night. He was purring so loud, so deeply… Scientists have found that when cats make that sound, it has a healing effect, and that helped me recover quickly. I also donate to cat-related causes, and when I see a cat in a bad situation, I have to adopt them. I have ten cats at home now, so I feel like I'm working just to support all of them!
Your essay book "Neko no Ashiato" was adapted into an anime series. How did you feel when you first saw the stories come to life? Did your cats watch it with you?
Nakagawa: I never imagined that my life would become an anime. I'm so fortunate. My cat Mamitasu is so precious to me, and he's a star character in the anime. My late father and my late grandfather also became anime characters, so that means they're going to live forever.
Your new single "blue moon" from the Zoids Wild anime was just released. It's been over three years since your last single. Why was this the right time in your life to release new music?
Nakagawa: During these past three years, I really wanted to go out and sing and do live performances, and then I began working on the stage and doing dramas. But I started to get afraid that I was becoming distant from my music, so I put my focus back on performing in Japan and overseas, and I really enjoy singing again. When the Zoids Wild anime theme became reality, it was a chance to come back to singing again and to release new music, and I'm so happy. I want the younger generation of anime fans to create good memories from this song.
The "blue moon" lyrics are romantic and emotional. What was on your mind when you were writing and recording this song?
Nakagawa: The title has a special meaning – there are countless miracles connected to a "blue moon". No matter how much rain or snow you might get, it still always gives light. When I look back on the hard times of my life, there were important people who were there for me – my cat, my family, my friends – I'm sure everyone has someone important in their lives like this moon. I hope that this song makes people think about those special memories.
The "blue moon" limited edition DVD has a special video interview with you from Los Angeles (Anisong World Matsuri at Anime Expo). Why was that experience in L.A. so special?
Nakagawa: I was actually still writing the "blue moon" lyrics on the airplane on the way to Los Angeles, and it had been 10 years since I had performed in L.A. I was really scared about being back on stage in America all by myself, but because I'd been going forward for so long without giving up, I was able to find the courage to do it. I had such mixed feelings – fear, joy, excitement – but when I came on stage, the reaction from the fans was so powerful. The view of all their faces and light sticks from the stage was amazing, and it affected my feelings right away. Because of this experience, I was able to complete "blue moon".
You're still getting reactions from fans through social media, and you're posting many times a day. How do you decide what moments you're going to share with your fans? How has it changed the way you feel connected to them?
Nakagawa: I really want to show off my cute cats! Right now, I want to keep updating my fans about "blue moon" and when I'm going to sing in Japan. I want to make sure no one misses it! I'm always happy that fans come out to see me, and it's a mix of adults and children, too. I used to feel like I was living in my own little world in front of the computer, but I found out that I was really connecting to people. This is how I was able to realize my childhood dream of being a positive person who can encourage others, so I feel like words have a lot of power. I'm so happy to read comments from my followers in the U.S. and other countries who want to see what I'm doing. I really want to stay connected with everyone!
Anisong World Matsuri Official Website: http://anisongworldmatsuri.com/
Anisong World Matsuri at Anime NYC Event Information: http://animenyc.com/anisongworld2018/
Shoko Nakagawa Website: http://www.shokotan.jp/
Shoko Nakagawa Twitter: https://twitter.com/shoko55mmts
Shoko Nakagawa Instagram: https://www.instagram.com/shoko55mmts/
BUY AT CD JAPAN!
Shoko Nakagawa
Shoko Nakagawa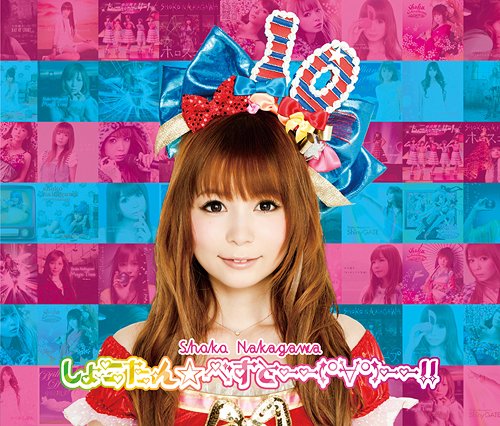 Shoko Nakagawa